1. What is Banking?
Banking is the sale and distribution of financial products to individual customers and corporations. These products can be anything from checking/ saving accounts and credit cards to advising on Mergers & Acquisitions or arranging IPOs.
2. What do Bankers do?
A banker is a financial services professional who works at a bank and engages in the sale and distribution of banking products to retail or corporate clients.
In the broadest sense, bankers exist to deliver financial products and services to their clients in order to solve their problems. In reality though, there are usually dozens of teams involved in each step of the process. Think of it as an assembly-line in a car factory where each person has a specific role to perform and really excels at that role.
The job of a banker may be divided into the following categories:
2.1. Business Development
Origination or business development just means getting a new client and convincing them to do business with you. Banks have teams of relationship managers and salespeople who do this either by cold calling, handling walk-in clients or through their network of contacts for larger clients.
2.2. Understanding client needs and product advisory
The next step is to understand the needs of the client and figure out what products or service satisfy their requirements. Solving problems and being helpful is how you become valuable to the client and gain their loyalty and trust.
2.3. Execution and servicing
In order to actually deliver the product or service, you have to first perform your due diligence. This means looking at their creditworthiness etc., collecting documents, signing contracts and so on.
Then the final product is delivered which could be in the form of a new account, a loan disbursal, a valuation report, bond issuance, IPOs etc.
3. Types of Banking
Bankers are differentiated based on the client segments that they service. The reason for this is that different types of clients (individuals vs small businesses vs large corporations vs governments etc.) have vastly different requirements when it comes to banking products. Therefore, each banker focuses on a particular segment only. Let's look at a few of these:
3.1. Retail/ Consumer Banking
This refers to all products that are sold to individuals. Retail banking includes things like savings accounts, checking accounts, CDs, personal or other loans, mortgages, online accounts, clearing services, ATM services, debit or prepaid cards, credit cards and so on.
Retail banking products are distributed from a vast network of branches spread across the globe. Even though there is an increasing focus on online distribution of banking products, the local relationship management aspect still exists to an extent.
3.2. Small Business/ Commercial Banking
This division caters to small local businesses. It includes products like business checking and savings accounts, business debit cards, online banking, business loans, letters of credit, SBA loans (in the US), credit card and payment processing, merchant services, point-of-sale systems (card swiping machines), payroll services and so on.
As you can see, the list of products and services is much broader for business clients already. Some products like accounts and loans may seem similar, but there is quite a difference in terms of how they are processed and analyzed and also in terms of scale.
In order to better service such clients, most banks have set up commercial and business banking teams specializing in such roles. They cater to SME clients (Small and Medium Enterprises) which is a rapidly growing and sizeable section of the economy. Often times, this is done at the branch level itself because that is where the clients are.
3.3. Corporate/ Investment Banking
This is the segment of the bank handling large corporate clients. These guys handle products like institutional investments, treasury management, securities trading, mergers and acquisitions, debt and equity capital markets, trade finance, asset management and so on.
Even though the number of such large clients are small, the scale is so large that this division usually ends up generating a sizeable revenue share for global banks. What is also interesting here is that many of these roles are advisory in nature where banks make money a fee income rather than charging interest.
3.4. Private Banking/ Wealth Management
This is the division that handles high net worth individuals and helps them manage their assets and grow their portfolio. Wealth management is not the biggest client segment, but it is definitely one of the fastest-growing especially in Asia. Because of this reason, many banks have been focusing on this division and open positions and salaries have been increasing steadily.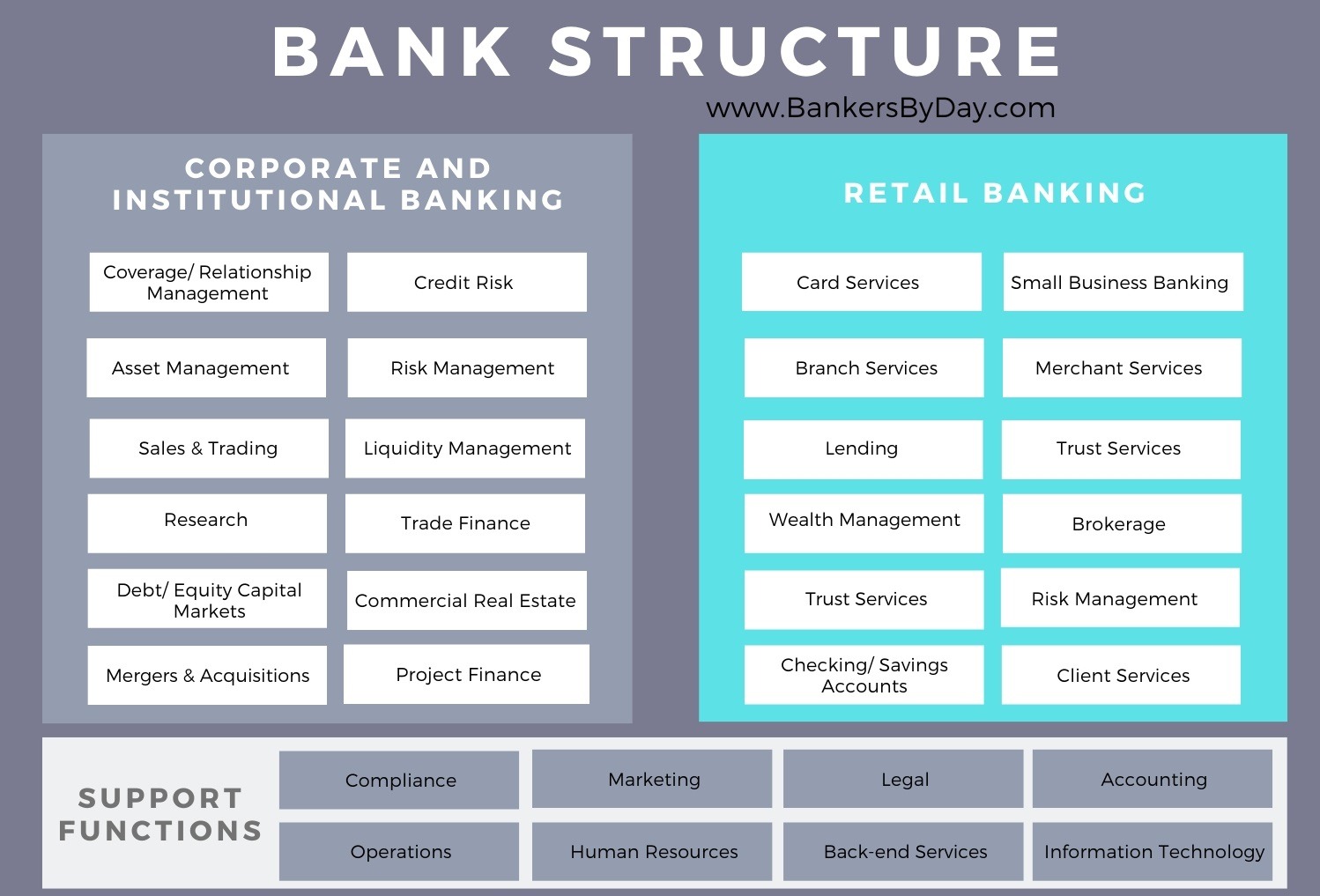 4. Banking Salaries
A banker can make anything from USD 50,000 to USD 150,000 during their very first year on the job. In UK/ Europe, this figure ranges from EUR 40,000 to EUR 120,000.
As you gain more experience and get promoted through the ranks, this number increases just like in any other industry. A Master's degree like an MBA can provide a further substantial boost.
The total compensation includes a fixed salary and a variable performance-linked bonus. Total compensation, for the most part, is dependent on two factors:
How much revenue you generate
How hard you will be to replace for the bank
This is why teams that work in front-end revenue generating roles earn more than middle and back-office support positions. It is also why the corporate and investment banking teams are better compensated – they generate more revenue on a per capita basis. But they pay for it in terms of grueling hours and higher stress.
If you want to learn more about exact salaries for each banking role, feel free to check out the all the detailed articles.
5. How to Become a Banker?
It is not that hard to become a banker if you have the necessary academic qualifications and the soft skills. Let's look at the step-by-step process:
5.1. Analyze your interests, strengths and weaknesses
If you are the analytical type but not much of a people person, then you might thrive in the middle or back office roles – things like credit analysis, equity research, compliance so on.
If on the other hand you are more of a salesperson but lack quantitative skills, then you would be better off in retail or business banking sales roles.
If you want to be in corporate finance, investment banking, high-level trading etc., then you need to have an analytical mindset backed by really good academics and also be decent at communicating.
You don't have to home-in on the exact role right away, but you need to choose a general goal to move towards (here is a list finance careers to get you started). There are several guides on this site that help you decide exactly what each role requires and offers. Go through those guides and get a general idea.
5.2. Get the right education
Once you have decided where you want to be, look at the academic requirements as mentioned in the guides. Degrees like business, finance, MBA, accounting etc. are usually preferred in banking and you can get a more detailed look at these in the linked article on best banking degrees.
5.3. Networking
Although it is entirely possible to get into banking without much networking, it is something that can really boost your job search. It really does open up doors and provides you opportunities to be considered for roles that you might otherwise not be considered for. It's all about building a personal rapport with the right people.
Networking can be tough, but you can start by talking to your friends or relatives who work in banking or tap into your university's alumni network. They will likely be more helpful and receptive towards you.
5.4. Internships
When you're a college grad with little to no experience, it can be almost impossible to distinguish yourself from the rest of the crowd. This is where internship opportunities come in. Internships offer you a chance to get some valuable on-the-ground experience and more importantly, to have some solid brands on your CV. They also give you an opportunity to steer the conversation towards a specific direction and then the ball is in your court.
Internships are quite important when you are starting out and here is a comprehensive guide on banking internships to get you started.
5.5. Perfect your CV
Some banking roles get over 250 applications per opening. I'm not saying this to discourage anyone but rather to drive home the point that you really need to go the extra mile and increase both the quality and quantity of your job applications.
Apply to all roles within your area of interest and go the extra mile with custom versions of your resume and cover letter. It might be impossible to write a personalized cover letter for each role but do so for the ones where you really want to stand out. Otherwise, you can just create three or four templates that fit different categories of roles that you are applying for.
I usually advise candidates to spend 50 hours or more working on their CVs. This is where your network building will come in handy as you can get valuable advice from your own personal network of experts. Most of the articles on BankersByDay have a section dedicated to CV building so make sure to glance through them!
If you want professional help, here is a list of the best Resume Writing Services for Banking and Finance professionals.
5.6. Ace the Interview
Job interviews can be scary. But if you really know your stuff and have the right mindset before going in, then you have already won half the battle.
Brush up on all technical and behavioral questions that are generally asked in banking interviews and be ready to tell your story. Don't miss out on any opportunity to take the conversation towards a topic that you're familiar with. For example, if the interviewer casually comments on some internship or assignment on your CV, then don't just grin and nod! Say something interesting about that project and steer the conversation towards it.
Be charming, act ethical, be professional, be someone that they would like to work with. If you manage all that, you already have an edge over most of the competition.
Related Articles