1. What is Investment Banking?
Investment Banking is mostly an advisory function where banks help their corporate clients with raising debt or equity, and with mergers, acquisitions, restructuring, leveraged finance etc. Investment Banking is typically part of a bank's corporate or wholesale banking division, at least for the larger full-service banks.
Investment Banking teams may be divided into several categories as follows:
1.1. Industry/ coverage groups
These guys are essentially relationship managers who handle the bank's overall relationship with a client. They meet the client frequently and try to source more business from them. They often take product specialists along with them to pitch a specific product to the client.
Most banks bucket their clients based on the client's total turnover as well as their industry. Most common industry coverage groups are financial institutions, retail and consumer, energy and utilities, healthcare, industrial, TMT (technology, media and telecom), natural resources (oil & gas) and so on.
1.2. Product Groups
These are the product specialists who focus on one particular product or service.
Mergers & Acquisitions – Advising clients who are looking to acquire or merge with other companies. Both the buyer and the target company may hire investment bankers for this.
Debt Capital Markets – Raising debt using the bond market – the largest source of capital in most developed economies.
Equity Capital Markets – Raising funds by issuing equity shares through IPOs, FPOs etc.
Leveraged Finance – Using high levels of debt for performing any strategic  corporate activity, like acquisitions, recapitalisations, capex etc.
Restructuring – When a company needs to radically alter its capital structure, usually because the company is unable to handle its debt payments.
These are the main ones, but some banks may have dozens of other teams like commercial real estate, project finance, syndication etc. Whether they are housed under corporate or investment banking, depends on the bank.
1.3. Middle/ Back Office
Investment Banks have thousands of people at the middle and back office which includes risk management, operations, compliance, in-house legal, IT, finance and accounting, treasury, HR, marketing and so on.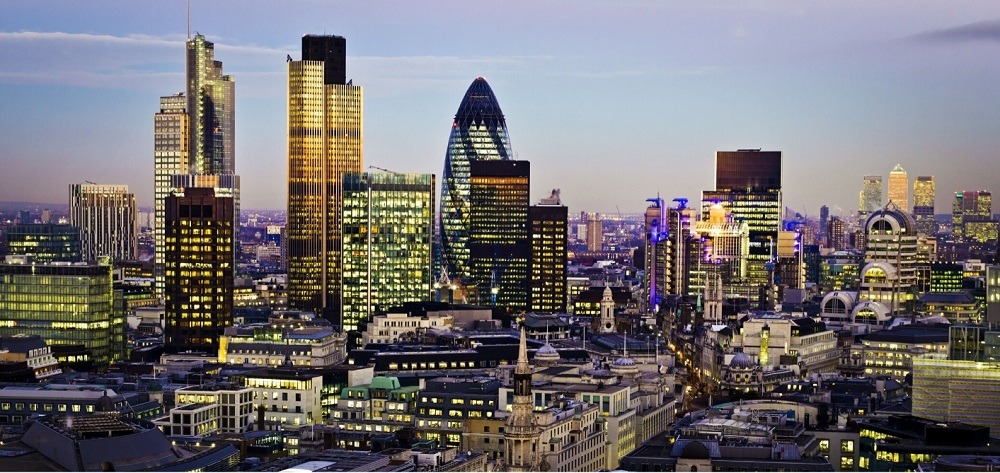 2. Why Investment Banking?
Before you go any further, you must first answer why you want to get into investment banking in the first place.
It's a tough job which requires you to perform exceptionally well in school, ace all job interviews and tests, beat the competition and the other 150-300 candidates applying for that one position. And when you do get in, you spend countless hours sitting in front of a screen building endless Excel models.
Why then do you want to be an investment banker?
Let's see if we can answer that together.
Are you naturally good at math, algorithms and other technical stuff?
Do you often wonder how the world's largest businesses operate?
Do you geek out talking about what you read on Bloomberg that morning?
Do you want to rub shoulders with CXOs of Fortune 100 companies?
Are you willing to work hard and long, and in exchange get paid more than almost everyone your age?
Do you want a fast-paced career in an industry where up-or-out is the only mantra?
Do you want to be a part of a crack team of professionals who have a reputation in the market for excelling at what they do?
Are you willing to get your hands dirty digging around in the underbelly of the financial services industry so that one day you can be a hedge fund manager or a private equity partner?
Are you willing to toil and sacrifice today so that tomorrow you can do whatever you want – from being an investor, a consultant to an entrepreneur?
How many of those questions did you answer "yes" to? That's your answer to the question "Why investment banking". It should be good enough to convince you as well as any interviewer.
3. How to get into Investment Banking?
These are the things you need to focus on:
3.1. Academics
The thing with all of the demanding professions (like banking, medicine or corporate law) is that they require consistent performance. You can't afford to be brilliant for three months and then slack off for the rest of the year. And this is why your academics are so closely scrutinized – they prove that you have been a consistent performer all your life.
The best banks only hire from the so-called target schools for their top roles. The reason is simple – they know that students there are the best and consistent performers.
So what to do if you are not from a target school? It does complicate matters quite a bit but here are your options:
Network like there is no tomorrow and try to grease your way in. Chances are, you will find at least one alumnus from your school at your target bank and you should definitely connect with them.
You will also mandatorily have to be at the top of your class to stand out.
Try harder to get an internship opportunity because these are a lot easier to get than a full time offer. Then use that to bolster your case by over-performing.
Better prepare for the interviews and technical exams by taking courses etc. because you'll need to be exceptional compared to the target-school guys.
The best way though might be to settle for a smaller bank or a less competitive role because you can almost always move later if you are good enough.
3.2. CV Building
Know these two facts:
The average recruiter will only spend ~7 seconds to look at a CV.
Your top competitors have likely spent at least 50 hours perfecting each and every line on their CVs!
In order to grab the recruiter's attention, you need some solid brands on your CV and each bullet point should pop. For example, if you have the Jet Propulsion Lab or DARPA on your CV, you can be sure the recruiter will read it.
But there are other ways too. I always recommend certifications from well-known organisations and universities to students whose CVs are lacking. The following article lists the best ones:
If you need more help with your CV, here is a list of professional Resume services that will get your CV ready for IB roles:
Best Resume Writing & Review Services for Investment Banking & Finance ranked by Bankers
3.3. Internships
Internships are the bee's knees. Be obsessed with them because they are really really good. Here's all that you get from them:
An opportunity to get on-the-job-skills
While getting paid
Without any prior experience
With a complimentary bullet point on your CV
And the best opportunity to impress some big-shot and maybe get a full-time offer
While being able to network like there is no tomorrow
And living in the city
This is why you should take internships seriously and prepare. In this linked article (which is long enough to be a mini ebook), I break down the four phases of the internship experience and everything else there is to know about them.
3.4. Networking
Some students and young professional think of networking as simply a means to an end. But that is not the case. Networking is not just about getting into IB, its part of Banking. Much like financial modeling or product knowledge or soft skills.
Networking is how you get internship offers, interview calls, market information, opportunities to connect with decisions makers etc. And that's just before you even get the job. You have to network even more once you start full time.
So learn to love networking and become a natural at it. I know some are naturally good at it while others struggle but remember that the world of finance has all personality types. You'll find plenty of people who love video games and others who will only talk about how much they bench-press.
You just have to get out of your comfort zone and just connect.
3.5. Interviews
Investment Banking interview questions come in several flavors:
Behavioral/ fit questions that asses your personality and work ethic for the most part and your ability to engage with the bank's culture.
Technical questions that test your knowledge about finance.
Guesstimate / brainteasers that test your general intelligence level. Essentially, these don't require any specialized finance knowledge.
Psychometric Tests – These contain everything from logical reasoning to ethics.
Case studies/ structuring – To test your ability to apply your skills to a practice scenario.
This article covers IB interviews in greater detail and provides answers to some of the most common questions:
Top Investment Banking Interview Questions (with Answers) – 2022 Edition
4. Compensation
Career opportunities and learning is good and all, but at the end of the day, you must be compensated in proportion to your skills and efforts.
Investment Banking doesn't disappoint in that regard. And, just like every other career, the pay only gets better with time. Here is the general salary range for investment bankers in the US, UK and Europe: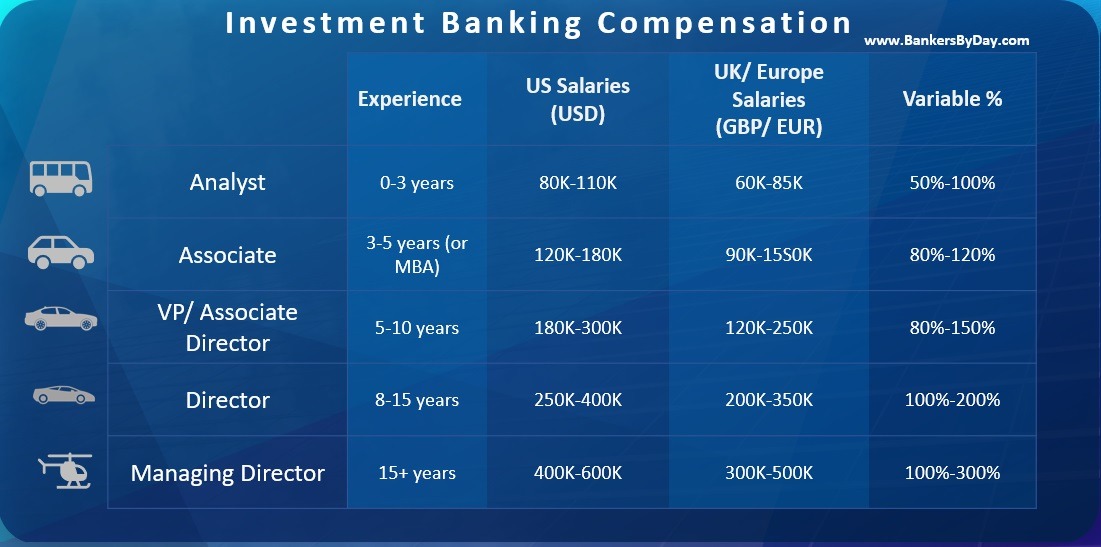 Normal caveats apply: Some banks pay better than others, some roles pay more and some cities have a cost-of-living allowance built in.
5. A Normal Day in Investment Banking
Every role is different and I advise you to go through the specific articles for each career you are interest in from this list here. That being said, there are some commonalities between all IB roles:
Technical Stuff: All your technical modelling, structuring, programming etc. falls into this category. Expect to spend almost half you time doing stuff like this in your first few years in investment banking.
Marketing Stuff: Pitch-books, presentations, data requests and so on. Coverage teams spend more of their time on these activities.
Relationship Management: You will barely do much of this initially, but it grow exponentially once you hit AD/ VP and beyond.
House cleaning activities: The normal reporting, MIS, miscellaneous tasks, certifications, responding to emails and so on.
5.1. Work Hours
The number of hours you work also depends on the division so its best to go through the individual articles, but I can give you a general idea here.
M&A guys spend the most time at work, usually 80+ hours. Capital markets, coverage, research and others are okayish with 60-75. Sales and trading people have it pretty it easy since they work close to market hours (but usually start early) and don't need to work on weekends.
6. Career Path
Investment Banking offers some great career opportunities, but you need to be flexible nonetheless. The market and the economy changes too rapidly for you to spend 30 years in one spot so you must learn to be agile.
This will be your career path:
Most college undergrads start at the Analyst level. Analysts, to be honest, mostly do just grunt work but that is also where you learn the most. I joined straight at the associate level and felt like I missed some of the technical learning that the analysts go through.
The next level is Associate which is where you join if you have a master's degree like an MBA, MFE, MFin and so on. The hours get better, the pay increase, the work is better and you finally start feeling it. Analysts usually reach this level in 3 years.
Next up are the Associate Directors or VPs. After you have spent roughly 3 years as an Associate, you will likely hit this level, and this is the sweet spot between responsibility and power. Beyond AD, you will have too much revenue pressure, but that is also where you have the most influence and can really start making the big bucks.
Being a Director is the first leadership positions and this is where you begin to feel the weight of the company on your shoulders. You are a decision maker who has to deliver to your clients and meet revenue targets as well.
Managing Directors are the leaders of entire divisions and responsible for bringing in hundreds of millions in revenue while making seven figures for themselves as well. Things again are less stressful because if you have reached this level, you certainly have what it takes to handle whatever your job requires of you.
It's not unheard-of for overachievers to reach this level in their 30's, but most just wash out before they reach this level. This is what banking offers to those willing and able to handle it.
Please note I don't mean "wash out" in a negative sense. Not everyone likes the lifestyle beyond a point and frankly, banking opens up other doors for you which are too good to not open. Which brings us to our last section – exit ops.
7. Exit Options
I still remember all the kids talking about exit ops before they even got in! Nothing wrong with knowing your options, but there is a reason I put this section at the bottom of my guides!
To be fair though, IB does offer the best exit options of any industry that I know of. You can get into private equity, venture capital, start a hedge fund, become a portfolio manager, day trade from your gaming laptop sitting on the beach in the Bahamas, or become a consultant and an entrepreneur.
The world is your oyster. Hit up the individual guides for a more detailed explanation of the exit ops for each IB role.
8. Related Articles