Top investment banks receive well over a thousand applications for every single job opening. The financial services industry remains as competitive as ever. But it's also as rewarding as ever which is why it continues to attract bright young minds from across the globe. It's also one of the toughest to break into. The whole process from CV building, to networking, shortlisting, assessments, internships, interviews etc., has been designed test your mettle.
You need a combination of academics, drive, preparation, and soft skills to succeed. Companies like Financial Edge help you get an edge by preparing learners for the selection process. They do this by giving you access to the same material that is used to train investment bankers at some of the world's top firms.
When you are competing at that level, you need every edge you can get; and this is certainly a substantial one. I have been going through FE courses for the last half year and asking some of my colleagues in investment banking and asset management who have taken these courses just how they stack up. Here is what bankers say about Financial Edge.
Course material – videos
A good course not only needs quality material but is also has to be engaging enough to help the user along their learning journey. There are various methods to keep the material engaging and FE had adopted several of these techniques. The videos are segmented into small 2–5-minute segments and that helps with engagement. Research suggests that this is the ideal length that maximizes learner interest and it's good to see this being implemented here. You will find yourself going through these just like people scroll through social media feeds.
Just because the material is easy to go through, does not mean they are skipping on any crucial information though. It's just that the packaging has been optimized. You will still find everything you need to know, including some nice tidbits and insights from real world situations that bankers find themselves in.
I have gone through hundreds of finance courses over the last 5-6 years for my reviews. And I have to say the delivery here is one of the best I have ever seen. I would equate it to watching a high-quality BBC documentary. It's not dull and drab like a lot of university courses, but its also not overly trivialized like a lot of YouTube videos. The delivery is just perfect.
The content has been designed by experts. FE states that the trainers have over 100+ years of collective experience and deliver training programs to the world's top 4 investment banks.  You are essentially getting access to the same quality material that actual investment bankers get as part of their orientation and training. What better way to learn?
Course material – slides and Excel sheets
There are two things that we use more than anything else in finance – Excel sheets and presentations. Sure, you don't get to do a lot of modeling as you move up the ranks but even when I was on a marathon deal call with a client, I still had a bunch of Excel sheets open in front of me. You can't live without it.
Which is why it is good to see that FE has made liberal use of both these tools to deliver optimized learning to all their students. The slides are in pdf format which means you can read them anywhere. And they are not just a wall of text but properly formatted to deliver meaningful information. Of course, that is to be expected given that their clients include some of the world's top, and most picky, investment banks.
There are dozens, if not hundreds, of Excel sheets accompanying each topic. This is important as it will give you the confidence to deal with financial models in the real world. I came across a lot of aspirants who learn the theory but draw a blank when it comes to applying it. Since FE courses have been designed to train IB hires, they specifically focus on the practical aspects, and this is the best thing you could ask for.
Difficulty level – Who are these for?
These courses have been designed for fresh investment banking/ private equity/ asset management hires. That should give you an idea about the skill level they are aiming for.
The courses are ideal for students or young professionals looking to break into IB and other finance fields. This includes interns, analysts and even associates.
They are also ideal for more experienced professionals in other fields that want to make a switch to any of these finance roles. Lastly, a lot of course takers are just business people and leaders who want to understand investment banking etc. because it has some connection to their roles. For example, a business development manager at a large company may be involved in a lot of M&A deals and might want to better understand how it works underneath.
You do need some basic mathematical and finance skills. Nothing too complicated and FE even has some free courses to help you brush up your skills before you start with one of the certifications or micro-degrees.
Brand value & CV building potential
Financial Edge is used by some of the world's top investment banks to train their fresh hires. That speaks volumes about the reputation that they have built in the industry. This also creates brand recognition and may provide you with an edge during the hiring process. Courses and certifications are just part of the overall package that banks are looking for. As long as it's a well-recognized course provider like FE, this should definitely give you a boost.
You can also add the digital completion certificate to your LinkedIn profile to add some oomph to your online presence. I know for a fact that HR managers and even other bankers spend a lot of time on LinkedIn going through various profiles and its usually where you make your first impression. I don't think I need to tell you how important first impressions are!
Will these help you with your career?
A lot of my readers ask me this and the fact is that each individual case is different. I believe the last two sections of my review should help you answer this question. As I said, if you are a student or young professional looking to get into IB, FE courses will certainly help you. Of course, you need academic credentials and sometimes work experience as well, so consider this a part of the overall package rather than a silver bullet.
In addition to the brand value of the certification, the other main advantage is the practical focus. You are not just learning theory but real-world case studies, practical exercises and assignments that give you the confidence to ace your interviews and prepare for the IB environment. Companies want people who can hit the ground running on Day 1 and that is exactly what is on offer here.
Pricing and value
FE courses are very competitively priced compared to the broader market. The deal is made especially sweeter with the 25% discount that readers of Bankers By Day have been offered. Just use the code BBD25 and you are good to go. This code works on all Financial Edge courses.
I think the price is totally worth it given the impact this can have on your career. There are plenty of overpriced courses on the internet that just don't deliver the value and I generally avoid recommending them. In terms of value, especially given the 25% discount offered here, I think FE really does beat them all.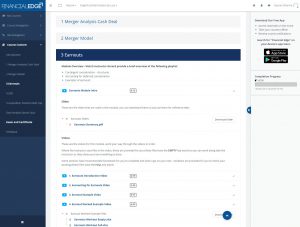 Exam and certification process
All the exams*  are multiple-choice questions. You need to secure 70% to pass the tests and unlock your certifications/ micro-degree. It's not overly difficult if you go through the material properly. Exams are of varying lengths depending on the topics. Some of the ones I looked at had time limits of 1.5 hours to 2 hours to complete which felt generous enough if you know your stuff. You can mostly complete them faster than that as long as you manage your time well. The point is that you should allocate some un-interrupted time from your schedule for the certification exams.
You can take the exam again if you fail to get the needed 70% marks, but I would recommend only attempting it once you are confident enough with the material. Make sure you do all the review tryouts at the end of each section before moving on to the exams.
*The one exception is the Modeler where you have to complete an assignment where you have to build and submit a financial model.
Other value-added features
Lifetime access: You get lifetime access to the course material which is a nice bonus.  I think more course providers should do this because students and especially working professionals usually have tight schedules and should be able to complete these at their own pace. The time it takes to complete each one is different but usually ranges from 30 to 60 hours depending on the exact package.
Mobile/ offline access: There is also a Financial Edge app available on the Apple App store as well as Google Play if you want to go through the course material on your mobile. It even works offline once you download the relevant material.
Direct Instructor support: You also get direct instructor support through email and can ask questions on the discussion forums where instructors or previous students can help you out. If you have any specific doubt, its likely been asked before by someone and you can quickly find an answer. Or you can ask it yourself. Instructors also provide feedback on assignments which is also a nice touch.
Free starter courses: If you need help brushing up some basic skills, there are several free courses to help you get up to speed. Excel and accounting basics are necessary for finance, and you can take these for free, if needed.  There are also some exercises and study material available on the FE blog.
Accreditation: All FE courses are CPD accredited. That means that these courses count towards your Continuing Professional Development.
There are also free technical webinars and live expert Q&As which for all micro-degree alumni. It's sort of like an elite group of students who have completed the most rigorous of IB training and therefore get some extra access.
Final thoughts
Financial Edge is one of my top recommendations for Investment Banking and related careers. It's not just me that likes them though, some of the world's top investment banks use them to train their hires so you are in august company.
The content delivery and presentation, in my opinion, is the best. The value proposition, especially given the 25% discount to BBD readers, is simply amazing.
I generally only recommend the best of the best courses, because that is simply what you need in finance. Financial Edge also combines that quality with a solid value proposition that is unbeatable.