Despite all the billions being poured into AI, machine learning and cognitive intelligence tools, good old Excel still remains the most reliable tool in a Banker's arsenal. No matter what side of finance you work in, Excel is going to be your bread and butter. It's just that powerful. If you are not using Excel, are you even working in finance?
Excel is pretty intuitive, I have been using it since I was in school. But it was only when I started to come up against really challenging modeling problems that I realized how limited my understanding of it was. I could get things done no doubt, but it would take twice as long and would seem very grindy.
Excel has some very powerful tools that you need to be proficient in if you want to be effective at your job. Yes, VBA and macros are part of it but there is a lot more as well. I looked at a bunch of courses online and shortlisted the ones that I think are most helpful. Hope you find them useful.
---
Course Review

CFI has some excellent course materials on a lot of topics including financial modelling, credit analysis, financial markets etc.  Their Excel courses are also one of the best ones on offer anywhere. They do a great job of guiding you in and then taking you all the way to Pro level. That is whats so great about these courses – they start easy but then take you all the way to where you need to be.
There are several modules that you can select for learning Excel based on what you need and how much time you have. From M&A modelling to business valuation, from Excel fundamentals to cash flow analysis, from building financial statements to scenario and sensitivity analysis in Excel – its all in here. You choose what you need and can ignore the rest.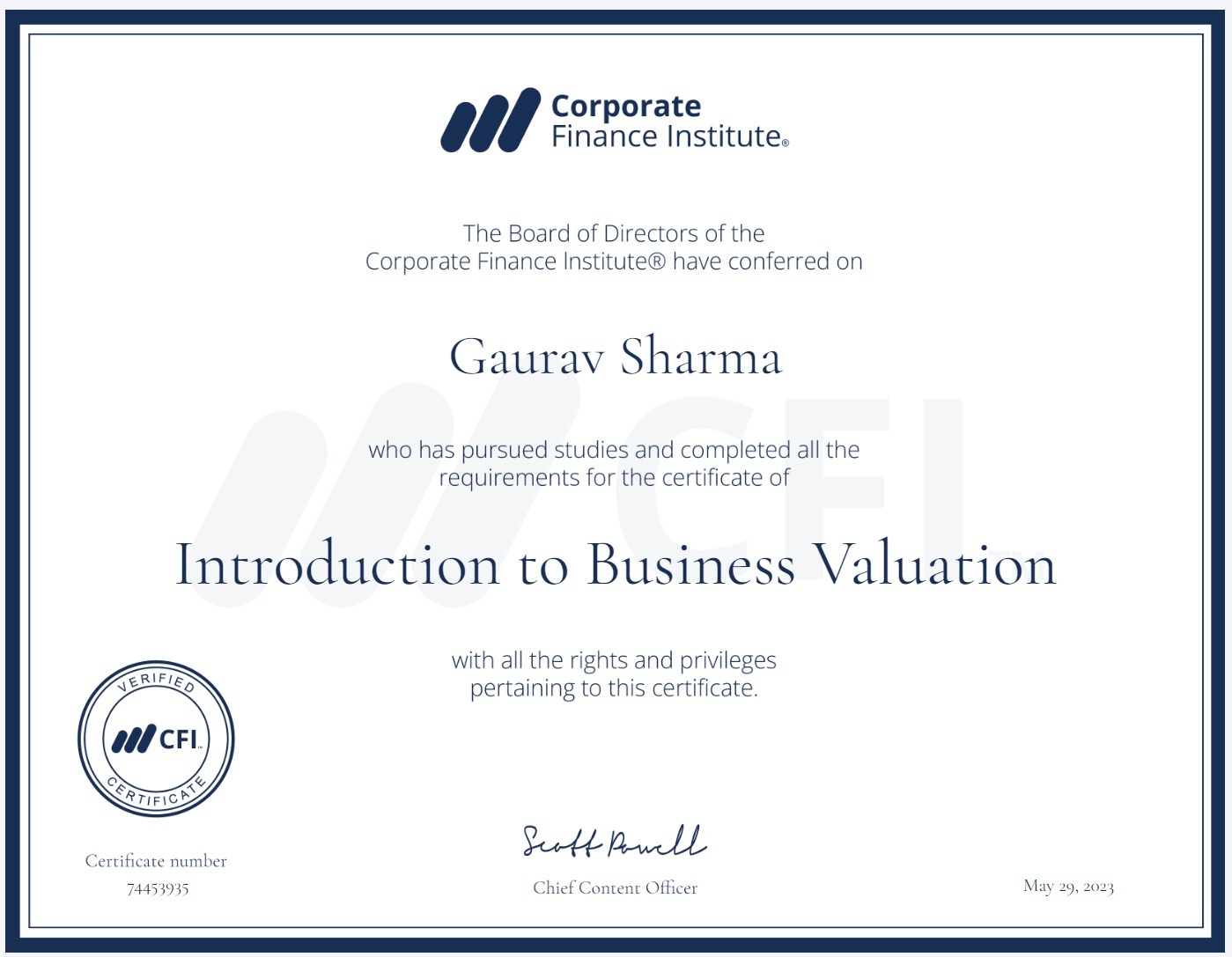 Each of these courses take anywhere from 2.5 to 8 hours to complete and how much time it takes you in total depends on how many of these you need to complete. The course content is delivered in easily digestible video format and is chopped up into small lessons which are easy to absorb. There are also plenty of interactive exercises and guided simulations to help you digest the material.
You also get a formal certificate that should help you showcase your newly acquired Excel skills to potential employers. CFI has built a reputation thanks to certifications like the FMVA so this is a good CV building and personal brand building opportunity.
Click here and use code BBD10 for 10% off!
Summary
| | |
| --- | --- |
| Duration | 10-50 hours based on how many courses you take |
| Format | Fully online, on-demand |
| Level | Beginner to Intermediate |
---
(Note: Use code BBD25 for 25% off at Financial Edge)
Course Review
If you are looking to learn Excel specifically for finance related applications, then you can't go wrong with this course. Financial Edge is the company that is hired by investment banks to train their staff. So when you take this course, you are learning the same stuff that investment bankers are taught on the job. This does not only translate to top quality instruction, but the certification that you get for successfully passing this course can itself help you get recognized for your skills.
The basics of Excel are pretty easy to learn. But what I really like about this course is that it gives you tips to improve your efficiency with Excel. You spend so much time with Excel that even a small efficiency improvement can be a massive time saver and increase your productivity many fold. I was lucky enough to have a colleague who took time out of her busy schedule to teach me a lot of advanced Excel tips and and tricks during my first month in banking, but such people are rare to find these days. So you should take the help where you can get it.
This specific course has a gradual learning curve where you start with basic concepts like menus, shortcuts, formatting, formula, referencing etc. pretty soon though you will be moving on to more advanced topics like conditional formatting, camera tools, circularity issues, advanced functions, scenarios using assumptions and methodologies, offset, index, match and such. Data extraction using vlookup and hlookup, indirect and named ranges, transpose, pivot tables, are also covered.
And then we have two topics that are my personal favourites. These tool s are so powerful and I had so much fun using them in my banking days but I still use them in my daily life. The first one is goal seek and solver and the other is VBA and Macros. These tools are so powerful and yet underused because most people simply don't know how to use them. But these are things why Excel is so ubiquitous in all industries. Don't skimp on this part.
Click here and use code BBD25 for 25% off on all Finance Edge Courses!
Summary
| | |
| --- | --- |
| Duration | Around 10 hours |
| Format | Fully online, on-demand |
| Level | Beginner to Intermediate |
---
Course Review
This course is probably one my favourites because most of the things that are focused on are used extensively in finance. It also dives deep into VBA and if learning VBA is part of your goal, then this one is a no-brainer. It is equally accessible by both beginners and intermediate users of Excel as everything is explained rather well.
The first part of this specialisation focuses on things like macro creation, user defined functions, creating of basic subroutines, leaning the basic programming structures in VBA, automating through goal seek and solver and so on. I learned some of this stuff only in B-School and I can assure these are not only super powerful functions but also very handy.
The second part is more VBA focused with import/ export of arrays using VBA, working with text files, consolidation of workbooks, creating professional looking user forms, advanced calculations, manipulation of data on spreadsheets etc. This is as good as it gets.
The last part of the course requires you to complete several projects. These projects require you to use all of the tools you learned earlier. They are also open ended – meaning you are free to take whatever approach you feel is best as long as you achieve the end goal. These are not like those end-of-chapter problems that only expect you to use what learned on that chapter. All of this makes this one my favourite Excel/ VBA courses.
Summary
Time to Complete: Around 60 hours.
Available fully online and on-demand.
Highly recommended for finance professional due to the unique approach of the course focused on creative problem solving.
---
Course Review
This is a foundational Excel course that gradually ramps up the difficulty and takes you from beginner to advanced Excel functions. Pretty much everything you need to know is in here and its is presented in an easy to understand and intuitive format. This is a great course both for beginners and those who already have a basic understanding of Excel.
The first part of the course introduces you to the bare essentials of Excel. Then you move on to intermediate functions and this is where things get interesting. You get solve real world problems through case studies that are introduces in each section. The last part is the advanced section where you look at financial functions, spreadsheet design, making Excel dashboards and such.
There are hands on projects that you have to complete along the way. Successfully completing the course will get you a completion certificate that may be of value depending on what kind of roles you are applying to. Excel skills are considered standard fare for most finance roles and not even mentioned because it is just assumed candidates know it.
Summary
Time to Complete: Around 72 hours.
Available fully online and on-demand.
A comprehensive course suitable for beginners and intermediate Excel users.
---
Course Review
This course is more focused on data collection, cleaning, management and presentation using Excel. That is a big part of why businesses use Excel anyway, so I consider this an essential skills for Excel users to master. The course is suitable for intermediate users who have at least a basic understanding of how Excel works.
Data organization and cleaning is a part of the process of data analysis. You will learn how to identify anomalies and outliers in the data, how to change data types, how to develop a data analysis plan and finally execute is with Excel using exploratory analyses and comparisons.
The course also focuses on Excel add-in which make an already powerful tool into a true monster. Various chart types, techniques like descriptive statistics and so on are also looked at. The goal of the exercise is to use powerful tools to simplify and automate the process of data organisation, analysis and transformation into actionable insights.
On successful completion, you receive an official and verified certificate that will help you showcase your skills to potential employers on LinkedIn and via your CV.
Summary
Time to Complete: Around 30 hours.
Available fully online and on-demand.
Recommended for those more focused on data analysis using Excel.
---
Course Review
This is most definitely the most advanced course on Excel and VBA which has been tailor made for investment bankers, valuation analysts, financial analysts, financial modellers and other finance professionals.
Initially, you focus on all the juicy Excel goodness like solver, goal seek, pivot tables, arrays and matrices, charts, logical functions, lookup functions and so on. There is also a focus on finance specific skills like importing Bloomberg data, statistical and regression analysis, calculating bond yields and so on.
You then move on to VBA fundamentals and functions. This includes stuff like recording and running macros, constants and arrays, functions and subroutines, flop control, loops and exception handling, Black Scholes option pricing model, Monte Carlo simulations, automating bond yield calculations and such very useful stuff.
lastly, we move on to advanced VBA topics like passing arguments to functions and subroutines, error trapping and debugging, Excel object model, accessing Bloomberg data with VBA, sharing data with other software, data management with external sources and websites etc. It's essentially a very practical look at the problems you will actually be faces with.
NYIF is a great brand to have on your CV and this course is more than just an Excel/ VBA lesson. It is an opportunity to enhance your CV brand value but putting some solid finance branding on it. This is the course I would ask new investment bank analysts/ interns to take during boot camp/ orientation.
Summary
Time to Complete: 3 days of full-time classes.
Available fully online though a virtual classroom or even in-person classroom sessions. You are taught by experts, so it is only available on specific dates.
---
7. Microsoft Courses
These are three courses created by Microsoft as part of their Excel training program. They are still highly relevant and provide useful and powerful insights, including the foundational mathematical concepts necessary to properly use Excel's powerful tools.
Introduction to Data Analysis using Excel – A basic introductory course that features Excel's core basic functionality like pivot tables, data aggregation, filtering, ratio calculation, creating aggregate reports using formula based techniques etc.
Essential Statistics for Data Analysis using Excel – This course is highly recommended for data analysts that intend to use Excel for managing large volumes of data. Statistics is a big component of this course and you use Excel's build in tools to explore the core principles of statistics and probability theory from both a conceptual and applied perspective. You learn about using Excel for descriptive statistics, basic probability, random variables, sampling and confidence intervals, and hypothesis testing.
Analyzing and Visualizing Data with Excel – This last course focuses on sourcing and importing data from various sources, creating mashups, preparing data for analyses, business calculations using the DAX calculation engine etc. Data analysis isn't really complete unless you successfully present it and data visualization is the last major focus of this course.
Summary
Time to Complete: Each course should be around 15 hours.
Available fully online and on-demand.
Recommended for those more focused on data analysis using Excel.
---
Related Articles
---