The Financial Modeling & Valuation Analyst is the premiere certification offered by the Corporate Finance Institute. With over 100,000+ student enrolments each year from 170 countries, it is certainly witnessing a surge in popularity. The FMVA is a relatively new certification, but it has still managed to outpace most of its competitors in generating interest from the industry. Part of that popularity has to do with their unique modular content structure which makes it suitable for a LOT of finance and banking roles.
But just how much will the FMVA help your career? Is it worth the time commitment and the cost? How does it compare with other popular certifications? These are question that you should be asking before you commit to any course or certification.
CFI's FMVA® Certification Review
The FMVA certification has been rapidly gaining popularity amongst finance managers and bankers alike. It has a more broader appeal when compared with some of the more niche certifications like the CFA or FRM that focus on one specific aspect like investments or risk, for example. But does the FMVA make sense for you? Before we start, here is a quick summary:
| | |
| --- | --- |
| Average Completion Time | 6 months |
| Work Experience Required | None |
| Average CFI graduate salary* | $121,000 |
| Total Courses | 29 |
| Estimated Price | Check |
*As reported by CFI
Desk-ready skills
There is a gap between theoretical concepts that are taught in universities and practical knowledge that companies are so desperately seeking in candidates. Such certifications fill this gap. The FMVA has been designed by industry practitioners with plenty of real-world case studies that help bridge that gap.
In addition to the case studies, the financial models that you have to complete as part of the course are also highly interactive. You also have quizzes and exercises throughout to test what you have picked up and this really goes a long way to really cement your learning.
Personal brand building
Let me start by reiterating that no certification guarantees you a job. That being said, each finance or banking job opening has hundreds of applicants these days and a quality certification makes it easier for HR to shortlist your CV.
As someone who has interviewed dozens if not hundreds of finance applicants, I can confirm that I am always on the lookout for ways to make the initial screening easier. I like to go in-depth for the final interviews, but professional certifications and prior work experience make the initial screening a whole lot easier.
You get a certification for each module that you complete. Here are a couple of mine to see what they look like: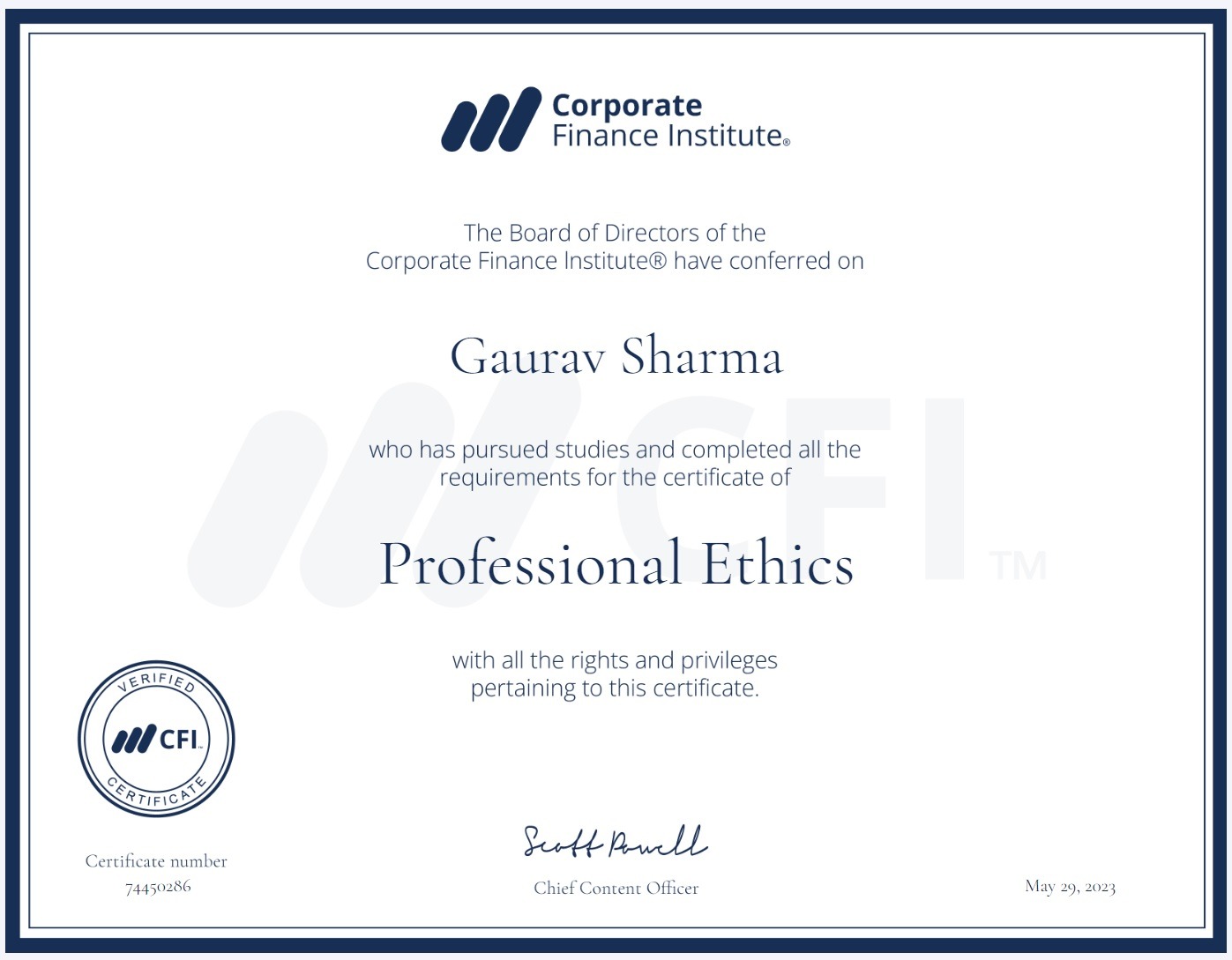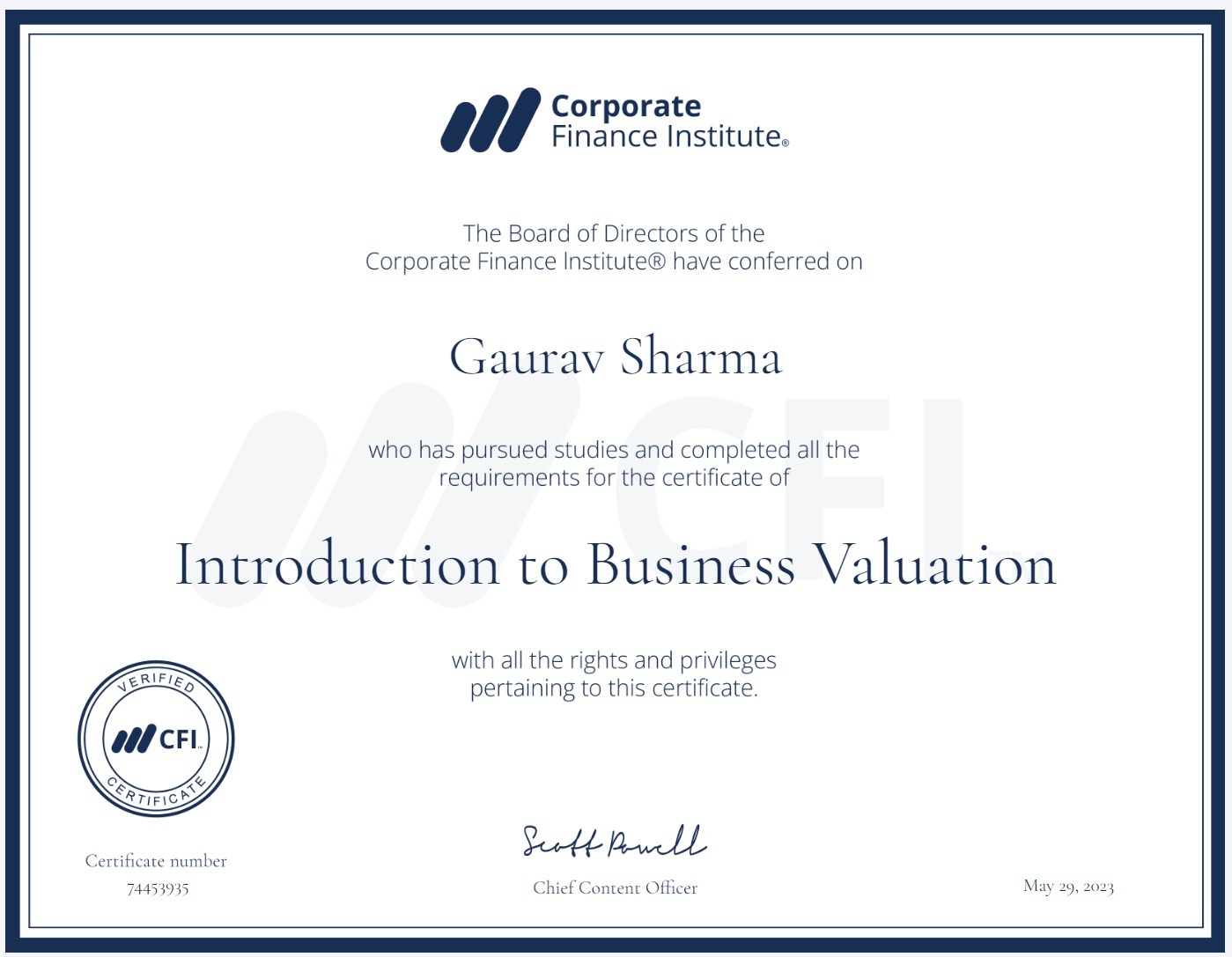 Customizable courses
The FMVA is also highly modular. That means you can pick and choose some electives to mould it as per your needs. For example, if you are already a whiz at Excel, you can choose to skip the Advanced Excel elective. Similarly, if you are really into LBOs you can take the Leveraged Buyout (LBO) Modeling instead. Or if you are really into real estate, you can take the Real Estate Financial Modeling elective. There are plenty of such options.
In fact, there are also a bunch of optional prep courses that you can take or skip depending on your existing skill level. This is certainly the most modular certifications out there and you can tailor it to fit your needs. This makes the FMVA suitable for most finance roles – from corporates finance to investment banking and everything in between.
Quality content
The quality of the FMVA material is really second to none. The videos are very high quality and exceptionally easy to follow. Beginners should find no issues with it at all. The instructors are some of the best I have ever seen and the course material, worksheets etc. are all par excellence. There are plenty of templates for you top download.
If I had to pick the best thing about the FMVA, it would have to be the quality of the content. I have taken plenty of finance courses over the course of my career, some costing several thousand dollars a day. And I was still impressed by some of the FMVA videos.
Flexible scheduling & fully online
Most finance certifications have a chicken and egg problem. You need those certifications to land your dream role, but because of fixed exam dates, it can takes years to earn them which might be too late. Which is one of the main problems that the FMVA solves. You can take it as per your own convenience/ schedule and don't have to wait around for years.
The course is also fully online, including the tests. This might just be a minor convenience for some, but for others it can be a big deal. Either way, it means you can earn this certification from the comfort of your home at your own pace, without having to worry about deadlines. You can take the exams as per your own schedule.
Learn the lingo
I went through quite a few Corporates Finance books back in college, and while they were all great, there was a major flaw. Books are written from an academic perspective by academicians. They often lack the jargon used in the industry and are also light on real world applications of theoretical concepts.
The FMVA is especially helpful in this regard. You learn the lingo and little nuances that interviewers tend to pick up on subconsciously during an interview or other discussion. There are very few courses that focus on this, but the FMVA videos naturally use this Street/ City lingo. It might seem like a minor thing, but it can establish you as an industry insider during the hiring process or networking chats.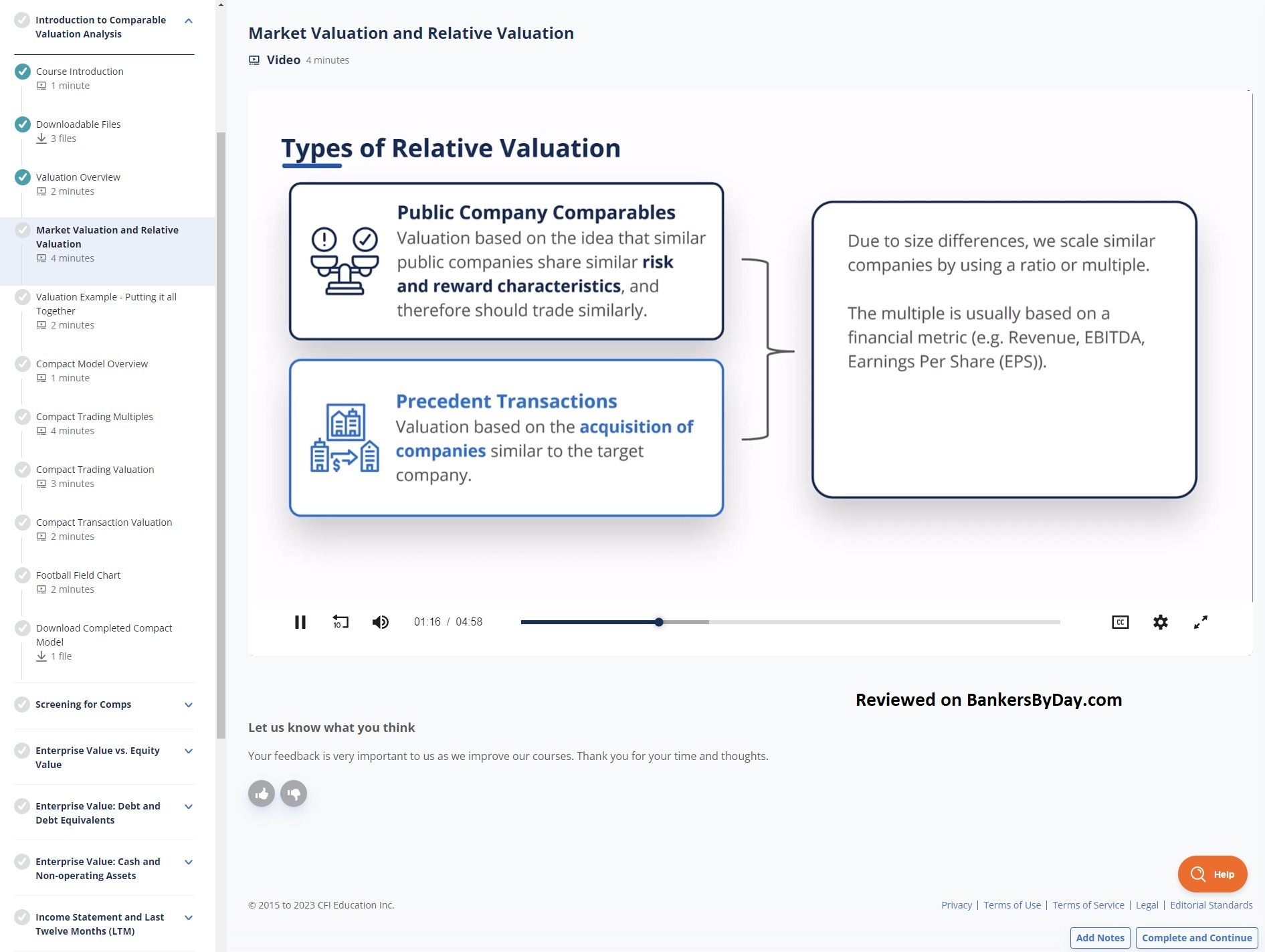 Future potential
A certification is only as valuable as the reputation of the provider. The Corporates Finance Institute has become one of the better names in the world of finance and is poised for strong growth based my analysis. With over 100,000 enrolments each year, they have been creating a lot of buzz in the industry which has a ripple effect far and wide.
I had the same experience with some other certifications that I took over 10 years ago and some of them have become synonymous with their particular disciplines. I fully expect the FMVA to become that ubiquitous for corporate finance and related roles. So you are investing not just in your present, but in your future as well.
---
FMVA vs CFA
I don't really consider the FMVA and CFA as direct competitors because they have different focus areas with marginal overlap. Still, as the CFA is the benchmark for finance certifications, it makes sense to make a quick comparison from the perspective of a finance practitioner.
Focus areas
The CFA curriculum is more focused towards portfolio management, security analysis, investments and other market related roles. Whereas the FMVA is more about valuations and financial modelling. This makes the FMVA more suited for investment banking or financial analyst roles while the CFA is preferable for investment management roles like portfolio and asset management.
That being said, curriculum is just part of the equation. Good certifications also reflect positively on your commitment, ability, intelligence and other positive attributes that employers look for. For example, if I was interviewing a candidate who has a project management certification that is not relevant to the finance role they are applying for, I would still view it in a positive light.
Time to complete
The FMVA can be completed in a few months. Most students require 100-150 hours of prep time depending on skill level. If you are already a finance student, it will be even less. This is also the biggest drawback of some of these other certifications like the CFA. It will take you years to clear the exams and you will also have to meet the rather lengthy work experience requirements. Which sort of defeats the purpose of such a certification in my opinion. You need the careers boost now. Not when you are already 4-5 years into your career.
Cost
The FMVA has the cost advantage here by a fair margin. Not only is the CFA several times more expensive to take, you will probably spend something extra on the prep resources as well. Personally, I still think the CFA is worth if you are targeting an investment role. But for everything else, stick with the FMVA.
I am assuming you are a finance student/ professional, and as a finance student you have probably figured out the opportunity cost equation here already. With the FMVA you will be ready and certified in a matter of months (assuming you clear the exams). That gives you a 4+ year head start compared to most other professional certifications.
Recognition
The CFA is obviously one of the most recognized certifications since it's been around for decades. But other certifications like the FRM and FMVA have been growing rapidly. The fact is they are not even in direct competition. CFA is for investments, FRM is for risk management and FMVA is financial analysts.
The FMVA is enrolling over 100,000+ students per year which is likely to increase its recognition as well. A certification is only as good as the reputation of its provider and from what I can tell, CFI is really committed to creating a similar quality brand and has already come a long way on that front.
Here is a summary:
| | | |
| --- | --- | --- |
| | FMVA® | CFA® |
| Focus Areas | Financial Modeling, Valuation | Investment/ Portfolio Management |
| Study Time (Estimate) | ~100 hours | ~600 hours |
| Time to Complete | <1 year | 3-5 years |
| Work Experience | Not required | 4 years |
| Exams | Online, anytime | On site, fixed dates |

FMVA Salaries and Compensation
How much you make depends on where you work. An FMVA analyst working at a bugle bracket investment bank in New York would probably be making more than others. But if you want a general idea, I pulled the following numbers from the CFI site itself:
Certifications do give you a boost early on in your career. Over time, experience and your actual on-the-job performance starts taking precedence over academics, certifications and pretty much everything else. This is expected and in fact, it makes certifications all the more desirable for young professionals who need the boost early on.
This is why I think certification holders tend to have higher starting packages and this number can add up over time as your increments are also based on your current package.
Career options for FMVA holders
As stated earlier, the FMVA is a highly modular certification. You can pick and choose electives and prep courses to mould it as per your needs. This really makes it applicable to a wide variety of roles from financial analysis to investment banking and from private equity to Commercial Real Estate.
The certification offers specific electives for you to choose. You can make your choice depending on what you are interested in. Want to focus on green financing? Pick the renewable energy elective. Interested in M&A? Pick M&A! Here is a list of some of those electives:
Advanced Excel Formulas
Real Estate Financial Modeling
Startup / e-Commerce Financial Model
Mining Financial Model & Valuation
Mergers and Acquisitions (M&A) Modeling
Leveraged Buyout (LBO) Modeling
Corporate & Business Strategy
Renewable Energy – Solar Financial Modeling
Excel VBA for Finance
Based on all these permutations and combinations, here is a non-comprehensive list of some of the career options for FMVA holders:
Mergers & Acquisitions
Debt Capital Markets
Equity Capital Markets
Leveraged Finance
Sales & Trading
Restructuring
Credit Analysis
Corporate Banking
Commercial Banking
Risk Management
Project Finance
Supply Chain Finance
International Trade Finance
Private Equity
Hedge Funds
Venture Capital
Asset Management
Wealth Management
Portfolio Management
Equity Research
Quants/ Financial Engineering
Financial Planning
Corporate Accounting
Budgeting
Corporate Development
Financial Analyst
That being said, FMVA definitely suits some roles better than others. If your role involves financial modeling and valuation, it is a perfect fit. For investment banking or corporates finance roles, you can still get a lot of value out of it by using the right combination of modules (as highlighted above).
Personally, I have seen most FMVAs in corporate finance roles. If those are the roles you are keen on, then you'd be hard pressed to find a more perfect fit.
FMVA Discount Code
Ready to take on the FMVA? Use the following link and the discount code to get 10% off. This is an official code provided by CFI and I will update it here if it ever changes in the future.
The FMVA offers solid value for money when it comes to finance certifications. Its far cheaper than the other mainstream certifications but use the above link and discount code to get a further 10% off.
Final Thoughts
The FMVA is a highly versatile certification suitable for several banking and finance roles. It offers unmatched flexibility thanks to its modular course structure and fully online certification process. While it still has some catching up to do when it comes to brand recognition, it is certainly gaining rapid popularity.
Related Articles